Company Knowledge Base
Timelapse was built with businesses of all sizes in mind and specifically for internal use. Affordable and predictable pricing, no developers or designers required and you can get started with your Knowledge Base in minutes.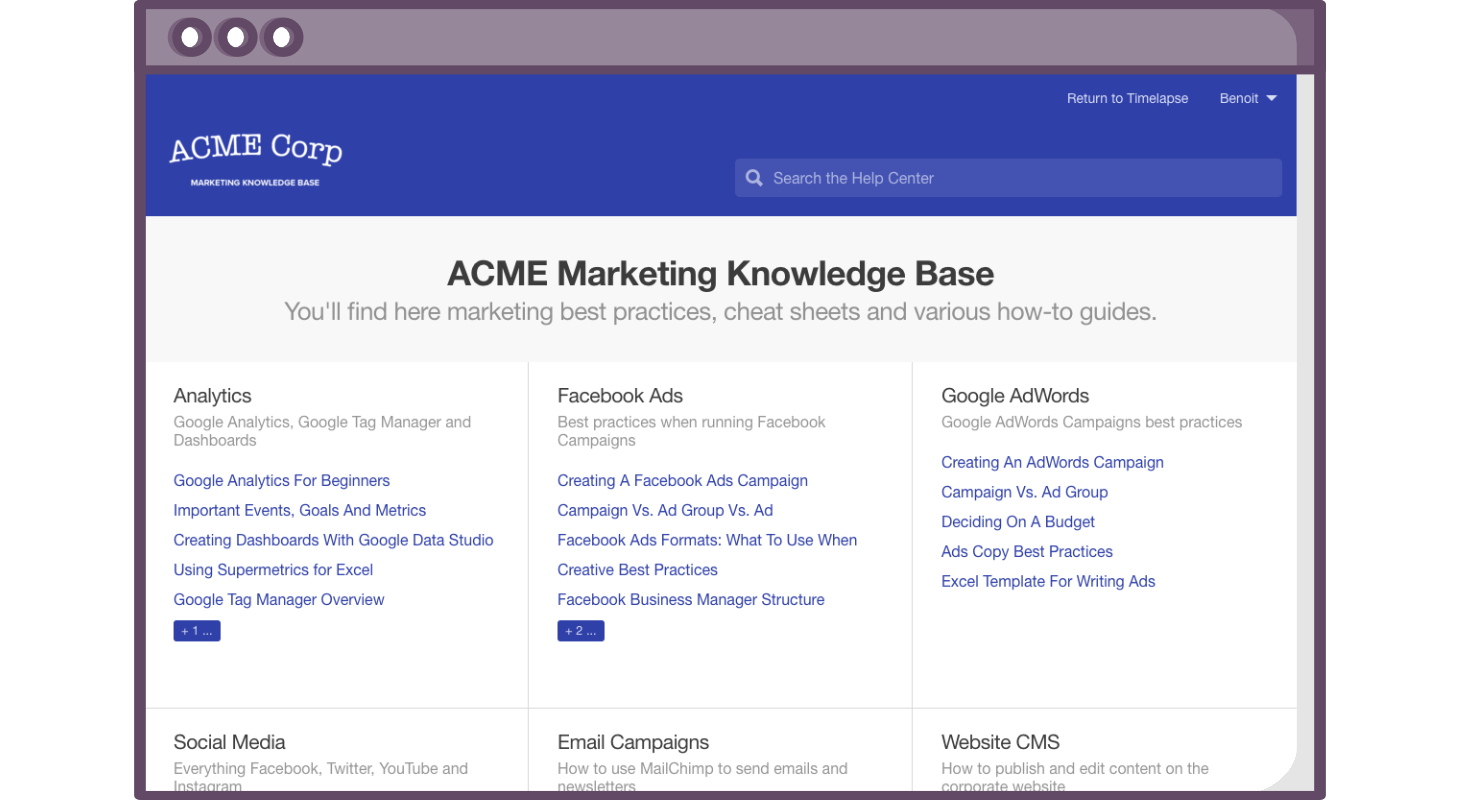 What makes a great company knowledge base
Easy and fast to setup. You don't want to spend weeks or months setting it up, especially when used internally, but still want something that feels personalized and that visually matches your brand.
Affordable and predictable pricing. People come and go, so you want to add new people without having to worry every time about the impact on cost and if adding that new person is worth it or not.
Easy employees on boarding. This means having an easy way to add people to the knowledge base and have a knowledge base that's simple enough for anyone to 'get it'.
Login protected. If meant to be a private/internal knowledge base, it must be possible to protect the access to the knowledge base with a login.
Powerful search. Employees must be able to find answers to their questions quickly and one way of doing that is by providing a powerful search engine.
Central source of truth. You want the knowledge base to be the central source of truth of your organization, so you need the information to be reliable.
Flexible content and structure and support for all sorts of media. User guides, help articles, attaching images, animated GIF or files… all of that should be easy to do.
Multi-department, one account. If you're creating a multi-department knowledge base, you want that to be easy to manage from a single account.
Analytics. How many visits is the knowledge base getting? What articles are the most popular? What people search for? What searches return no results? These are all important questions you want answers for, in order improve the usefulness of the knowledge base.

Meet Timelapse
With Timelapse, you can get started with your Knowledge Base in minutes.

No designers or developers are required. You pick an accent color, upload your logo and we do the rest! We like to think there's a little magic to that process. So within just a few minutes, you have a Knowledge Base that matches your corporate identity, patiently waiting for you to add content and invite collaborators.

Our pricing is simple and predictable. We don't charge per user, all of our plans come with unlimited users, whether they're admins, editors or members. We charge a very reasonable flat monthly fee, so you always know what you pay for.

Inviting employees or team members is easy. You send individual invite links for employees to create an account or create an organization invite link. An organization invite link is an impossible to guess link that anybody can use to join your account and it never expires. It's often the preferred way for larger organizations as it doesn't involve sending individual invites.
It's possible to restrict registrations to email addresses from a specific domain only.
Making the knowledge base private and protecting it with a login is just a matter of activating the option from the admin interface.


Powerful search is built right into Timelapse. Employees will get live results as they search and as an administrator you will get insights on what people search for. More importantly, what people search for and don't return any results! It's a great way to get feedback on the knowledge base without even asking.


Timelapse supports multiple layout types, depending on what format fits best your content. User guide or manual? No problem, use the 'Docs' section type. Help articles or FAQ? Great, use the 'Help Topics' section type. They're not just different layouts, they're different writing experience too, because we know writing documentation isn't the same as writing random, unrelated help articles.


Our editor is very flexible too. Add images, attach files or embed YouTube videos. You and team members won't have to work with HTML, embed codes or anything like that.



Manage multiple departments from a single account. Timelapse supports managing multiple knowledge bases from a single account. Let's say you need one for marketing and another one for finance, then it's possible to create two knowledge bases and manage who has access to what from just one account.
Set up your Help Center now, pick a plan later.
Fully functional trial, no credit card required and the first 30 days are on us.
Start your free trial